An Erasmus + Project
A Learning and Leading 21st Century Language school
2019-2021
Today's business world is becoming more and more multinational as it expands across borders and companies compete for advantages to keep ahead of their competitors and at the forefront of the ever increasing and fast moving market. In many international businesses, English is the dominant language of communication. With so much cross-border activity, cultural differences are having an impact on business and what is common practice in one country could be viewed differently in another. Effective communication is vital in not only understanding and respecting these cultural differences but also in helping to avoid misunderstandings of verbal and non-verbal communication between cultures.
CNTC, a language-learning centre which offers language training to multinational businesses and individuals who are respectively striving to advance in their organisational markets and careers, must also keep abreast of the ever progressing language training market to be a leading provider.
Through this Erasmus+ programme, CNTC is delighted to offer their teachers, administrators and management, the opportunity to experience and learn from cultural differences by working together with their cross-border European partners in Slovakia, Italy and the UK. There are numerous Continuing Professional Development courses available which will enhance the teaching and management methods and skills of CNTC to be a more innovative and efficient training provider of language learning experiences to their students.
In August this year, CNTC sent three members of their staff to Slovakia on the first 'Mobility' training. Three courses were attended during the two weeks at Harmony Academy:
Essentials of Communication:
This was a short course of 2.5 days where participants explored different methods of communication and discussed whether it is always effective. There were lots of new warm-up activities to use with group classes. Participants looked deep into their own personality characteristics, guided by Stephen Covey's Whole Person Paradigm theory to understand and appreciate how we are all made and act differently in various situations. This should be remembered and respected when working with others – not everyone will always see things as you do! Participants also looked at Virginia Satir's Personality Iceberg Model and discovered that the style of a person's communication is made up of many aspects of their life history, events and emotions which lie beneath the surface layer which we, as the recipient of the communication, see or hear!
Essentials of Leadership:
This course (also 2.5 days), also had lots of new group warm-up activities to take back to the classroom. In these few days, participants discovered the differences between management and leadership and about taking ownership of the roles and responsibilities each entails, both in work-placed and in personal environments. Participants explored the idea of creating a coaching and guiding culture between members of staff. Everyone espoused their own personal values which were used to write a mission statement for both work and personal life.
The Learner-Centred Approach:
This was a 5 day course and took place in the second week of the training. Here, participants looked at the differences between a Traditional Teacher-Centred approach (Passive learning) and a Learner-Centred approach (Active learning, participation). Various psychological theories of learning were investigated including behavioural, cognitive, humanistic and constructive. Giving autonomy to your learners to discover facts for themselves rather than filling their head with information and by offering continuous encouragement for personal growth and development is very important in a humanistic learner-centred approach to teaching. There were a lot of discussions between the participants about 'real life' problems experienced in the classroom in Slovakia and France with opportunities to examine ways of solving these problems.
There was time to socialise with class participants and course managers and also the opportunity to experience the local cuisine and culture with a welcome dinner on the first evening, optional group lunches at various local restaurants throughout the two weeks as well as an end of course dinner after both courses. Cultural visits included a very interesting historic tour of Trnava Centre and at the weekend a visit to 'Red Stone Castle' (Červený Kameň) a 13th-century castle in Kameň, administered by Slovak National Museum.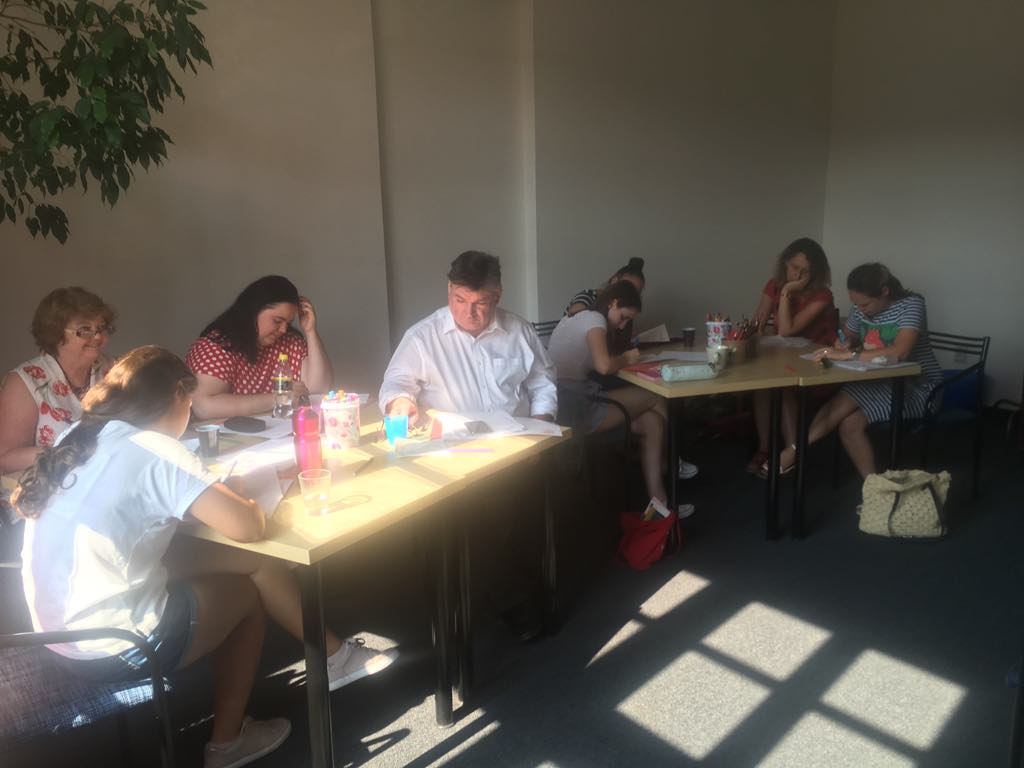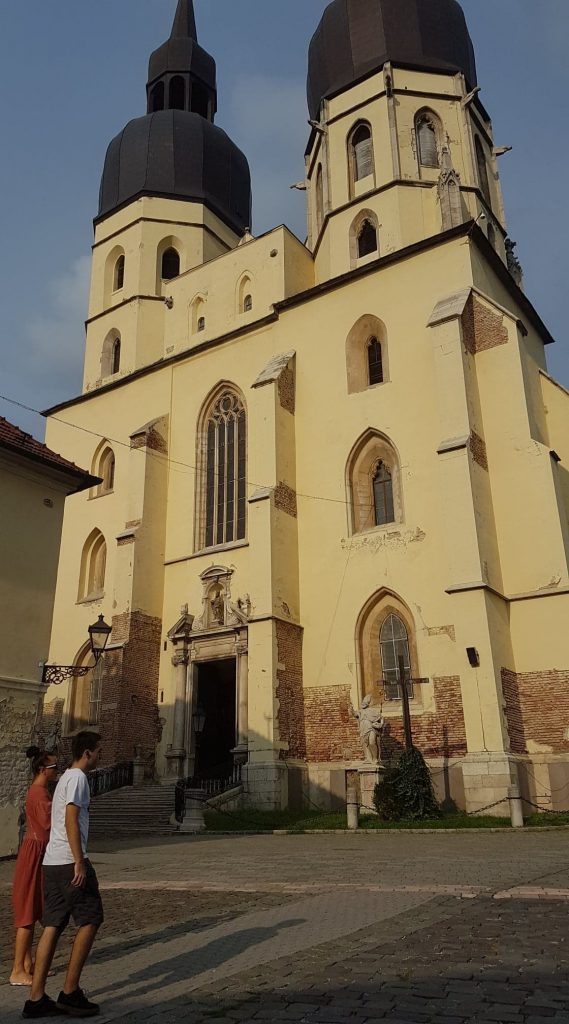 ************************************************************************
Next Event!
In March 2020, CNTC will host an Erasmus+ Event Week from Monday 2nd to Friday 6th March.
During this free Erasmus+ event you will find out about Erasmus+
What it is and how it works.
Available funds and how it can benefit YOU!
Hear about CNTC's Erasmus+ Project – Learning & Leading 21st Century Language School.
A fun and informative week is planned where you will,
Meet the European partners in the project, based in Italy, Slovakia and the UK.
Sample Teacher Development Modules: –

Innovative Methodologies & Technologies

Managerial and Leadership Skills.
If you are working in education and would like attend, please contact Nicki at CNTC (tel. 05 59 13 5000) or send an email to contact@cntc.fr
We look forward to meeting you in March at CNTC, Lons, 64140
************************************************************************
Erasmus+ Training Week at CNTC, Lons – 2nd – 6th March, 2020
CNTC (Alpha Langues), Lons, are delighted to announce that they have recently hosted a successful week of 'Teacher Development Courses' for English Language teachers and trainers. CNTC teachers, along with teachers from the CanSpeak network and private schools and business, were all offered the opportunity to attend the free training modules between the 2nd and 6th March, 2020. The week was well-attended by teachers from CNTC (Alpha Langues), Lons and Le Challenge des Langues –Toulouse (both members of the CanSpeak network), and invitees from local primary schools and other training and business consultants. The course trainers were partners of CNTC's Erasmus+ project « A Learning & Leading 21st Century Language School« …
Jana Chynoradská, HARMONY Academy, Slovakia
Jana graduated from Comenius University, Faculty of Education, with a diploma in English language and literature, and a doctorate in English methodology. She initiates many local and international projects aimed at developing cross-cultural and international networking within ELT, education, communication and leadership.
Chaz Pugliese, Pilgrims UK
Chaz is a teacher trainer, conference presenter and author working out of Paris. He has been a keynote speaker at over 30 conferences and has trained hundreds of teachers all over the world on many aspects of ELT methodology. Chaz published Being Creative (Delta) in 2010. His latest book is Creating Motivation (Helbling, 2017) and one more is in preparation.
Chaz has been a Pilgrims faculty member since 2000. In 2013, he co-founded the Creativity Group. His main research interests are: Creativity in Education, Motivation, Spoken English and the Psychology of Language Learning. Chaz is a keen tennis player and a fairly decent jazz guitarist.
Gabriela Lojová, HARMONY Academy, Slovakia
Gabriela Lojová (doc, PhDr., PhD.) is an English language teacher trainer at the Department of English language and literature at Comenius University, Faculty of Education in Bratislava, Slovakia. She specializes in teaching English grammar and the psychology of foreign language teaching and learning.
Chaz, joined us via video-conferencing from Paris and started the week with a day on 'Creative Methodology'… an informative day exploring the reasons why creativity is any teacher's main ally and how a teacher's creativity can encourage student motivation. Methods for generating enthusiasm in the classroom through personalising exercises and activities, talking about real facts and making it relevant to the student. Be a caring, fair and original teacher. Chaz offered a lot of tips for use in the classroom, particularly on ways to be creative and working with minimum resources while creating student motivation. Chaz stressed using 'real play' not role play exercises, to be creative and experiment with activities and exercises with your students.
The day finished on a positive note with everyone keen to put the day's examples of creative motivational activities into practice in their classroom.
Gabi continued the training modules on Tuesday and on Wednesday and Thursday afternoons with the foundation course of the Learn and Lead Programme for Trainers in the 'Student-Centred Approach' (humanistic) approach to teaching a second language. This course focused on the development of trainers' pedagogical and psychological thinking rooted in the principals of a learner-centred approach. The 7 principles of Learner-Centred teaching were explored and analysed and compared against traditional teaching/learning methods (passive learning). The Learner-centred approach (active learning/discovery) was overwhelmingly agreed by the group to be the better approach to teaching and learning a foreign language. Keep the training humanistic and relevant to the learner. One size does not fit all.
Jana opened the training on Wednesday morning with 'Essentials of Communications'. The foundation of the course was based on 'The Whole Person Paradigm' by Stephen Covey. Participants were then invited to discover differences and similarities between people and to find out what really matters in communication. Trainers and Managers in schools became aware of their individual roles and responsibilities, helping them to create a motivating, effective learning environment with a focus on common goals.
On Thursday, Jana continued with the module on 'Essentials of Leadership.' Participants were guided on how to be an effective team leader and encouraged to examine their own roles and responsibilities in both personal and career life. These essential and effective leadership and management skills can be used both in the classroom and in the running of a training organisation. This gave everybody the opportunity to see things from the perspective of managers and language school owners and vice versa and to see how everyone has an important role to play in providing a bespoke and innovative course for each learner while delivering a professional business service.
The week finished on Friday with a review of the week, and an exploration of how ideas could be developed, progressed and implemented within the CNTC environment. These informal sessions were facilitated by Jana who provided ideas and advice, gained through her experience in running several Erasmus+ projects over a number of years. Overall, it was deemed to be a successful week's training and people left feeling more motivated and inspired, and keen to use new ideas in the classroom.
A highlight mid-week was a tour of Pau on the Alpha Langues Double Decker red bus. Everyone climbed on board and stopped off for an aperitif to enjoy the magnificent view of the Pyrénées Mountains.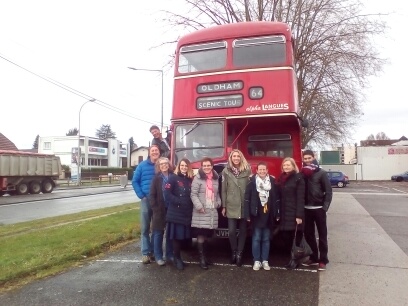 ************************************************************************
Due to the Coronavirus, all CNTC staff requests for Erasmus+ mobilities have been put on hold until further notice.
Thank you.
************************************************************************